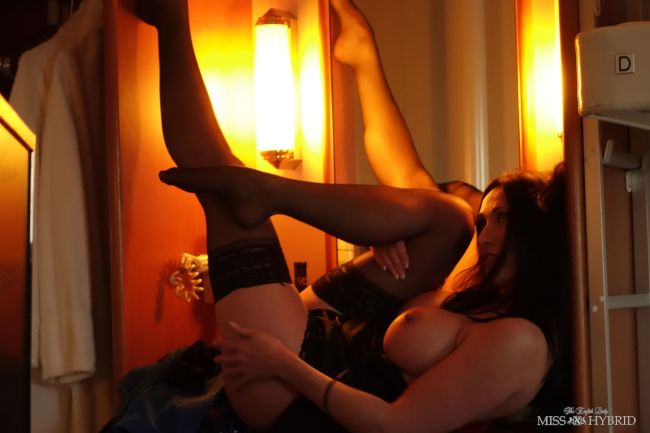 My Latest Newsletter




All the latest news from The Estate of Miss Hybrid and her International adventures
Euro Tour Newsletter Ahoy There Sailor Miss Hybrid Has Boarded
I hope you like my new Euro Tour Newsletter. the overnight crossing as always was great fun, I like to cause as much havoc as possible and the crew are always very helpful.
I took my cameras and my trusty GropePro, Lord B my decrepit husband and my thoroughly useless PA Felix.
I have lots of photos and videos from my fun and frolics. Here is a phototgraph of me positioning my GoPro for the perfect angle.
As soon as we got to the chateaux I got myself ready to meet some of Lord B's old chums.
I have been seeing Lord B's chums for over a decade now, unfortunately they're a bit longer in the tooth than the trouser department. Thankfully, dial a service came to the rescue. Luckily for them the old boys get as much enjoyment watching, as they do joining in.
I did a bit of local sight seeing the next day. Felix was left on board gagged and bound to the bed, without the do not disturb sign on his door! I had plied him with kamagra and dressed him in a frilly pair of panties and stockings. …moving on!
A couple of lunchtime beers and a few Chablis and it was time to put Lord B to bed, not for me though, I decided to put on a bit of a show for his old chums. I showed them what i thought should be included in modern Chateaux amenities, in the event that I ever opened a Hybrid Hospitality chain. Zero stars for sun loungers, pool and gym, five stars for plugs, whips and chains.
This is my kind of executive extra, offered as an upgrade. Forget the fake leather writing desk and a pre worn bathrobe. My suites would have a kitty in the cupboard, just for your fun.
All will be revealed in my coming video.
Kisses
Miss Hybrid
---