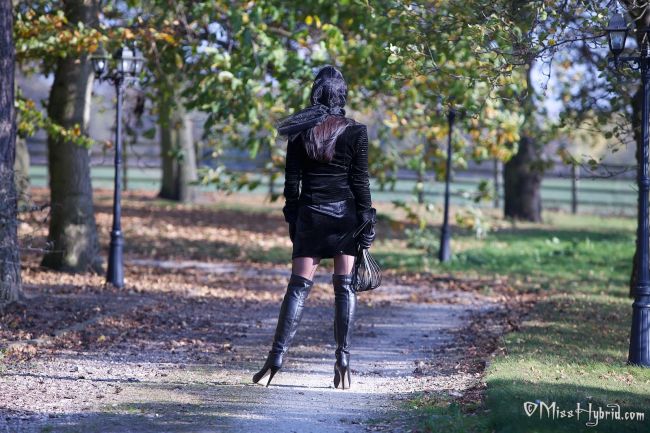 Miss Hybrid Leather
Watch as Miss Hybrid wearing Leather, walks down her driveway, wearing her leather jacket and nothing but her pantyhose and her leather boots. It looks like she's out again in search for her next victim.
Feeling playful she decides to perform a pussywalk outdoors wearing her Miss Hybrid Leather Thigh boots. She start off demurely dressed in a velvet two piece and end up in just seamed pantyhose and leather thigh boots. Then she walks up and down her drive, the Autumn leaves are blowing across the road as she slowly removes her clothing. Miss Hybrid carries a riding crop in her leather gloved hand, just incase there are any naughty submissive men unfortunate enough to cross mistresses path. I wonder if she will get wet boots!
Miss Hybrid enjoys the freedom of being undressed outdoors and loves the feel of leather against her skin. She often walks around the ground completely naked, but now that the Autumn is here the leather provides some comfort from the elements. Many a slave has been fortunate enough to be allowed to watch her as she struts in her leather thigh boots outdoors. If they are lucky, they may even have received a thigh booted kick in the balls from their Mistress, Miss Hybrid. How would you measure, do you think that you could manage to please Mistress?
Mistress Hybrid and her Miss Hybrid Leather Thigh boots can do as she wishes. So many try to copy, but only the real English Lady, Miss Hybrid can get away with behaving like this. Miss Hybrid slowly removes her clothes until she squats down, right in front of the camera for a surprise ending!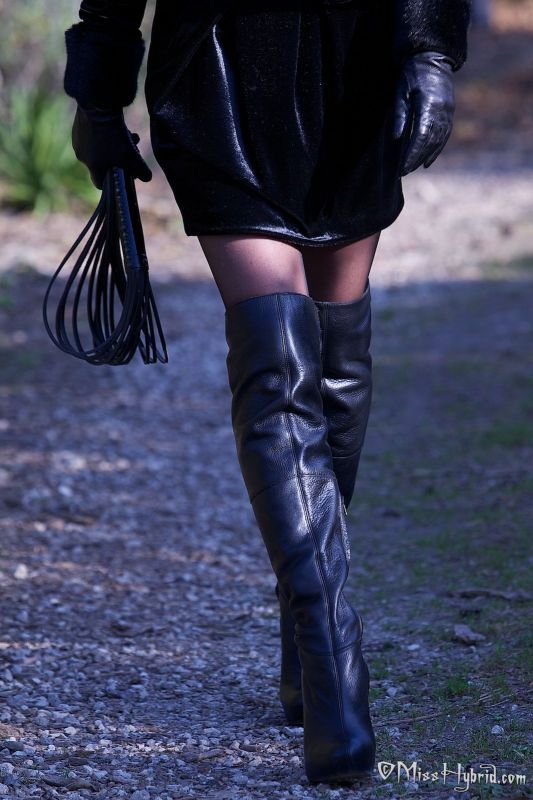 To see all of Miss Hybrid's uncensored HD videos and High Quality photo sets please click here to visit misshybrid.com
and here to keep up to date with all the goings on and comings off at the manor at misshybridblog.com
---