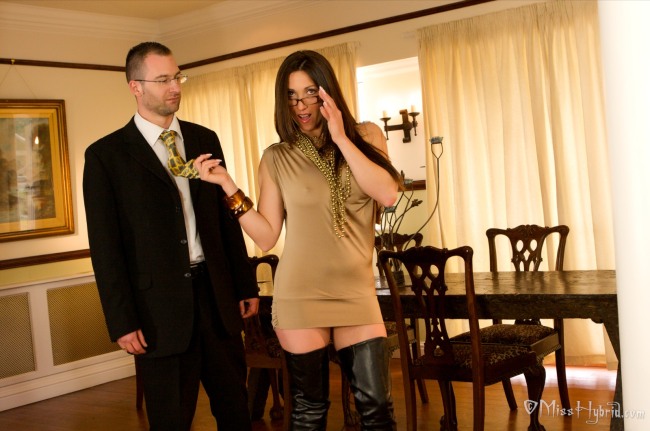 English MILF fucked, Miss Hybrid
English MILF fucked in leather thigh boots
Do you invite members to participate in your games mistress?
I have an idea and it goes like this……………….I want to see an English MILF fucked
You are dressed in a secretarial outfit with suit jacket – white
blouse – calf length boots, with your hair up, glasses and lovely
black tights.
The camera surveys an empty room and you enter through the door.
You say you are hear to take dictation for the letter which needs to go out.
You sit opposite me on a chair, lean forward to show your cleavage and
begin taking notes….out of the blue you ask if I am looking down
your cleavage and call me a naughty boy for taking advantage of the
view!!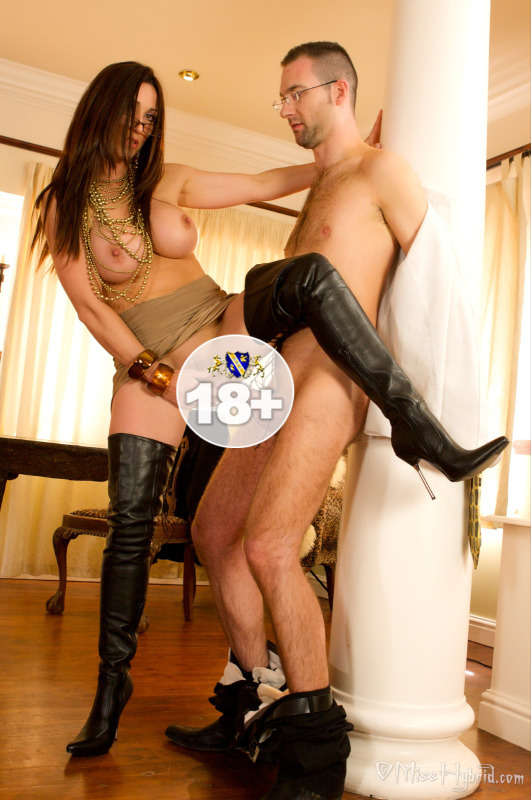 You ask if I would like to see more and sit back in your chair and
begin unbuttoning your blouse to show your bra!!
You call me a naughty boy again and ask if I would like to see your breasts!!
You pop your breasts over the top of your bra – lick your fingers and
begin to play with your nipples making them nice and erect – you ask
if I like and say I have such lovely breasts don't I?
You run your hands down your body and down your thighs to the hem of
your skirt which you're slowly begin to pull up revealing more and more
of your lovely nylon covered legs………I've noticed you looking at
my legs in the office – you like them don't you – you say.
You play with your legs teasingly pulling your skirt higher and higher
revealing more and more of them………….
Until after a couple of minutes your skirt is up around your hips.
You have your legs firmly together – you place your hands on your
knees and slowly, tantalisingly open your legs to reveal the crotch of
tights.
You smile into the camera and tease me saying do you like? Is this
what you've been wishing for, to see an English MILF fucked
You have a pair of black tights on with sheer crotch there is no
gusset, so I can clearly see you pussy through your tights –
delicious.
To see all of Miss Hybrid's Uncensored, hard core, high res, high bit rate, HD videos and photos please click here to visit misshybrid.com
and to keep up to date with all the goings on and comings off at the Manor please click here to visit misshybridblog.com
---